Google updates are always a mixture of good intentions and mysterious delivery. The latest update is Google Guaranteed, a sponsored scroll that adds listing options and ranking changes for a variety of local service providers.
Google is trying to "guarantee" work by trusted local businesses. The fine print, however, is that your service business can only appear in the top results if you have an existing Google Ads account and you operate in a sector covered by the Google Guaranteed program.
Local Services in the Google Guaranteed Program

Appliance Repair
Carpet Cleaners
Janitorial
Electricians
Estate Lawyers
Financial Planners
Garage Door Installers
HVAC
Lawn Care
Locksmiths
Movers
Pest Control
Plumbers
Real Estate Agents
Roofers
Water Damage Restorers
Window Cleaners
What Customers See on Google
If you're in the Grand Rapids area and search for "electricians," this is what you'll see on the top bar. The Google Guaranteed results appear before regular Google Ads listings and the local map pack.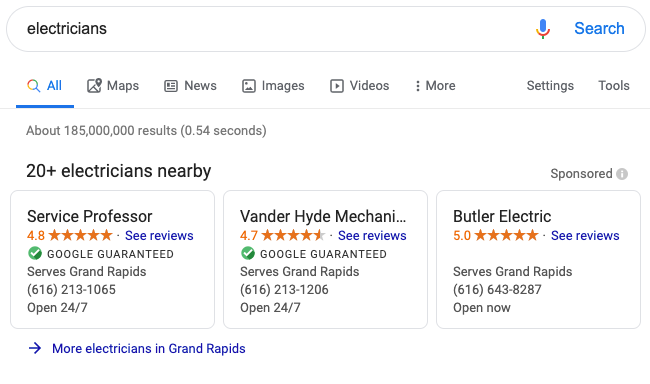 The result is a cross between contractor review sites like Angie's List and the Better Business Bureau.
All the results in the "20+ electricians nearby" field have an existing Google Ads account. Some are active, but it's more of a marker to see which providers have an optimized Google My Business page. The real kicker is the Top 3 field, which is only available for active Google Ads campaigns.
And the green check mark?
Local Service Providers must complete a series of background, license, insurance checks, and potential video interviews to prove ownership and certification. If you find this confusing or would like to learn how your business can get involved in the Google Guarantee program, please reach out to the team at Valorous Circle.
Need a Google Ads Guide?
The team at Valorous Circle would welcome the opportunity to be your Google Ad's Guide. Find out how our Google Ad Guide program gives you full control and total transparency so you'll never wonder how much of your monthly spend went to ads.

Talk to a Google Ads Expert