The International Interior Design Association's mission is to provide 'meaningful resources to Commercial Interior Designers and their clients to advance the profession and enhance business value.' And as purveyors of expert web design, Valorous Circle knows how to create a site that enhances value.
Membership, training courses, advocacy, and student engagement – all to the benefit of the designer – are at the heart of Michigan IIDA's core values. The older version of the chapter website missed the mark and did not enhance its business value.
Many interior designers focus heavily on their project galleries and significant artistic developments. The Michigan IIDA, however, is a resource and advocacy center for designers, rather than a design showcase.
Part of Valorous Circle's expert web design plan was to reinvigorate the Michigan chapter's core commitment to the advancement of interior design 'through education, legislation, leadership, design excellence, accreditation, and community outreach.'
Notice the Michigan IIDA's crisp and clean lines. The layout out is structured, easy to navigate, and active. With scrolls informing you of projects, patrons, and projects, the site is nothing short of an ever-evolving community bulletin board.
The former site relegated an overwhelming majority of the IIDA's membership elements to the overhead menu and their subsequent links. Instead of a clear menu list and connections layout, viewers only ever saw a giant header image with bright, neon text.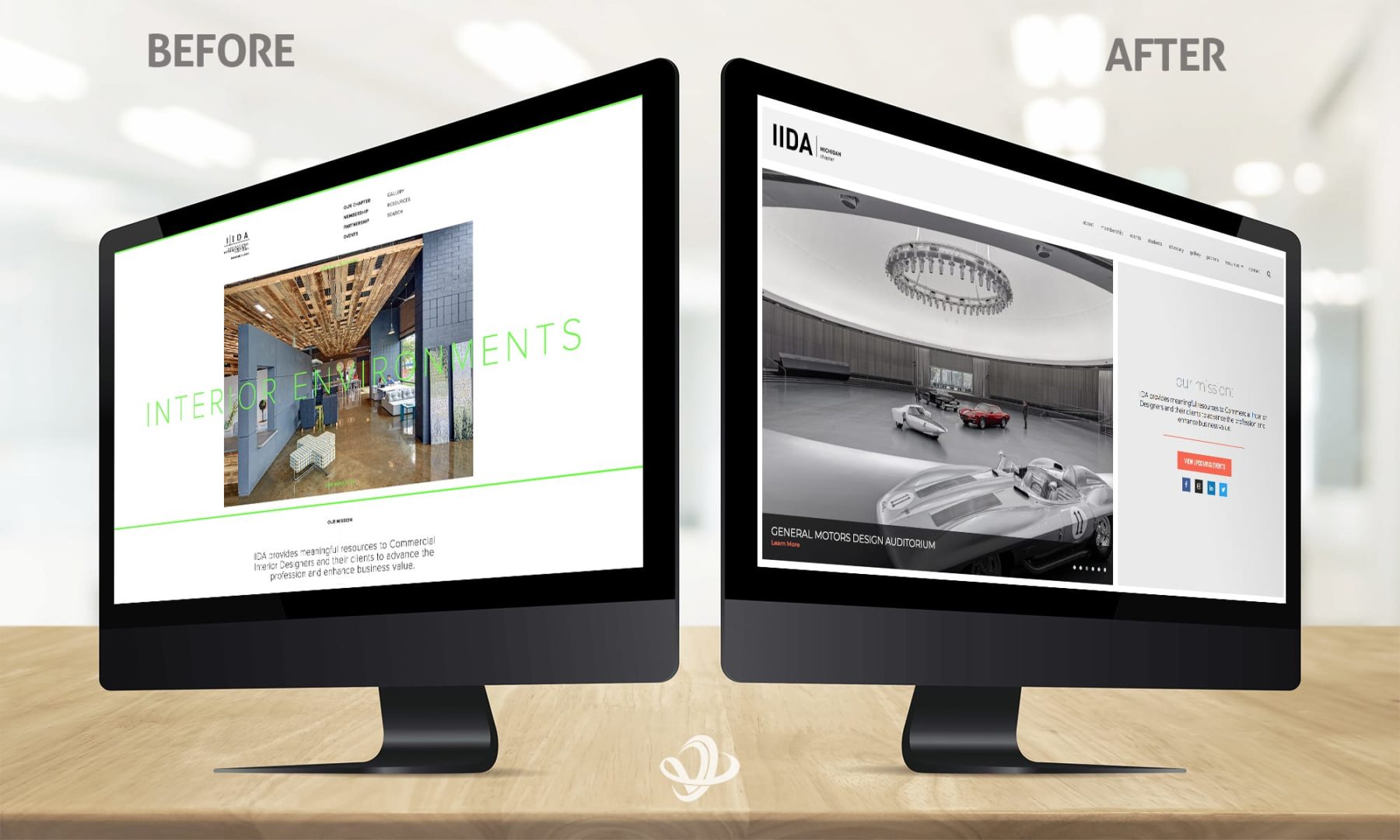 In other words, all design isn't the same. Web design wasn't a strong suit of the commercial interior design advocate. Nor should it be. We all have our strengths we must play.
The Michigan IIDA chose to be loud, brash, and attention-grabbing. What happens if a viewer didn't like the design, or misunderstood what the IIDA resolves to accomplish? While all are potentially great characteristics for an individual designer, they are less important for their advocates. Classes, networking events, and social feeds all appeared in muted tone below the fold.
Instead of one astoundingly large picture and covered in neon lettering, each gallery exists as on a carousel highlighting the designers' artistic work and functionality in a business setting.
The Michigan IIDA's worth was not in its ability to portray the unique and eye-popping design. Its job is, and will forever be, to bridge the gap between the profession and the professional designer. And now it does.
Enhance your business' value with expert web design by Valorous Circle.